Conference Photography and Social Media: My Tips - #vmhc2018
I love attending conferences, but I have little experience in helping organise, manage or handle conference social media. But the latter is what I found myself doing last week, helping run the King's Centre for Military Health Research social media account (@kcmhr and photography for the Veterans' Mental Health Conference: From enlistment to retirement (#vmhc2018).
I spent hours searching for tips on how to successfully run social media including how to do conference photography. I found a lot of articles, but none of them provided much substance to the actual question: How do I make the best use out of social media and drive engagement?
Here are just a few of my tips.
Create a plan
Before the day (in my case a week), grab a copy of the current programme/agenda and start to create a Twitter battle plan. The plan should include the following items:
When will the Tweet be sent
What will be included in the Tweet
What image (this is important) will be attached to the Tweet
What hashtags/Twitter handles should be included?
This battle plan will be your go to reference for the entire day, a fall back if there are no user generated Tweets to send (more on this later). Remember, you want to drive engagement, therefore you should include every speaker (their Twitter handle and organisation Twitter handle)!1, Q&A and any VIP. At #vmhc2018, from grabbing the photograph and having a Tweet live was a matter of minutes, enabling the conference to be 'live tweeted' without much delay.
Avoid Goal Setting
We are pleased to see that #vmhc2018 is #trending across the #uk - the conference this years is exploring traumatic brain injury, health & well-being of military recruits, the mental health of #veterans in #NorthernIreland, and the impact of #military service in later life. pic.twitter.com/JX1uF5jh2c

— King'sMilitaryHealth (@kcmhr) March 15, 2018
When I first was asked to run the social media for #vmhc2018, I started setting goals. These included ambitious targets such as; "I want to trend in the UK" or "I want increase followers by 25%". All are great goals, but you start to lose focus, it is not about increasing followers or trending, it's about user engagement for those attending the conference and those who are monitoring it from home. Simply, reach measurements may not truly capture the 'success' of the conference.
Involve Users to Drive Engagement
Part of the success at #vmhc2018 was involving users. While I had the Twitter battle plan, I prioritised retweeting delegates (and those not attending) over sending out tweets via @kcmhr. The rationale - get users involved. Don't be afraid to retweet someone presenting a negative (or contrasting view), other users will comment and this will create natural online discussions. It was great to see delegates discussing topics on Twitter away from the conference.
Respond to Negative Comments
Always respond to negative comments. For #vmhc2018, many comments related to our perceived failure to conduct research on specific topics and themes. For each, I Tweeted back providing our research database (all articles open access) and provided contact details for the research term.
Ensure hashtag is visible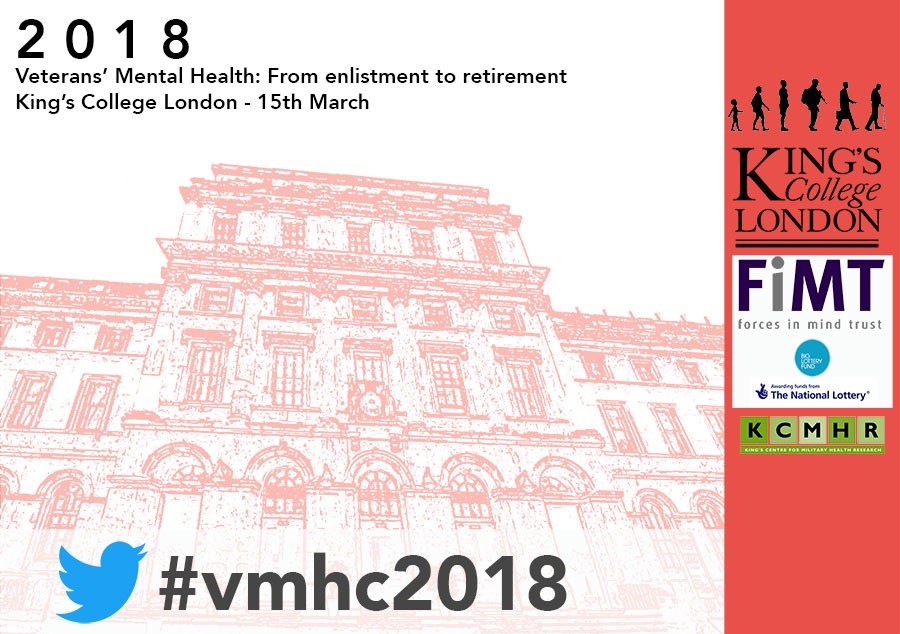 It is important to ensure that the conference hashtag is on all branding and merchandise. All conference branding used the #vmhc2018 - really important to create your own conference hashtag, otherwise delegates may create multiple versions which will dilute the social media positioning.
Bring extra batteries, memory cards, cables, and a charger
You don't have time to charge any of your devices, so bring spares. If you've got a DSLR, you may go through a couple of spare batteries (I used 2), and the camera's charger. On the storage front, you may not need a spare memory card if you have a large capacity (I use 128 GB cards), however, anything less than 32 GB, I would get a spare. Also, it is very handy to take a battery pack with you to charge as you move around the venue! Do not rely on having constant access to a power socket. Also, always take spare cables, you'll find that you are loaning them out to colleagues and delegates (people are very nice to you when they are low on power).
Finally, know where your batteries, memory cards, cables and chargers are - you will need to get hold of them quickly, therefore make them easily accessible (and not at the bottom of a bag).
Carry Fewer Lenses
I am looking forward to #vmhc2018, its going to be awesome! I will be managing the photography and social media for @kcmhr - Last minute checks: Camera ✔Additional Lens from @fat_lama ✔ Charging cables ✔ #PrinceHarry (later...❓Its going to be fun #imalama #jointheherd pic.twitter.com/i7aC9kge8u

— Dan Leightley (@_Dr_Daniel) March 15, 2018
When I rented a lens from Fatlama (Nikon f/2.8 70-200mm), the guy gave me some great advice. Move more, and avoid using zoom (where possible). He made a very good point: it is about the person, not the gear. By moving, you are creating new angles and shot compositions. You are also ensuring you have the highest quality shot at the end (zoom degrades the quality of the shot, even when shooting in raw). On the lens front, I recommend using a 50mm (f/1.4 or 1.8) and a 70-200m (f/2.8).
Have Patience - Do Not Machine Gun the Speaker
No one likes to hear the camera shutter going off all the time. Have patience, watch the speaker and only take a couple of shots at a time.
Be Mindful of the Background
Pay attention to the background of the shot. Before you click, just take a quick look at the background and ensure you have all the anatomy and nothing strange coming from the person. Also, be mindful of lighting, conference venues usually have a lot of artificial lighting, making some shots tricky to get.