Cycling the Island of Jersey
As part of my ongoing ambition to cycle all the main islands of the UK I recently cycled around Jersey. Jersey is the largest of the Channel Islands and sits between England and France. It is a self-governing dependency, with a mashup of British and French cultures. Although you're never too far away from all the British classics like TGI Fridays, Nando's and a Cineworld.
Getting to Jersey
There are two options to visit Jersey. Ferry or Fly. In our case, we decided to fly. The main motivation behind this decision was the fact it was cheaper to fly (including bike boxes) than it was to get the ferry. The ferry would have also taken longer, and I don't think my seasickness would hold out for the one hour plus ferry ride.
We flew with British Airways direct from London Heathrow. At present, British Airways allows you to use you hold luggage allowance for a bicycle, so long as you tell them in advance. I used the LifeLine EVA Bike Pod. No major issues with the box at all. Although be prepared to turn your handbars in, and take you pedals off.
Cycling Jersey (77km route)
You're spoilt for choice with cycling routes in Jersey. We decided to follow the coast as much as possible but did go inland on several occasions to avoid obstructions and any off-roading. The roads were beautiful, with respectful drivers and other friendly cyclists.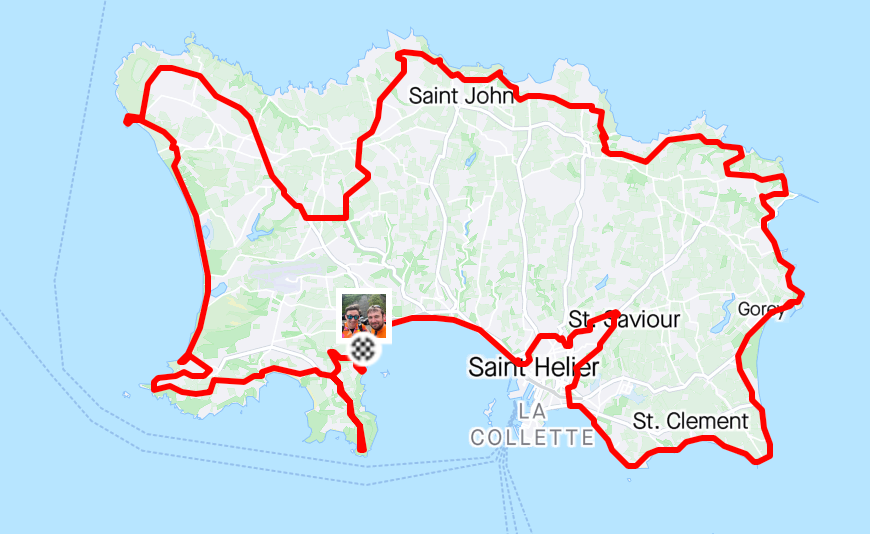 In total we cycled 77km with 909 meters of climbing and it took us about 3 hours 30 minutes to complete. You can find our route here.
Other things to do in Jersey
The island is really busy and has numerous beaches, cliffside walking trails, inland valleys and historic castles. The main highlight for me was the Jersey War Tunnels complex, in a former hospital excavated by slave labour, documents the island's 5-year German occupation during WWII. You're able to go into the tunnels and experience what life would have been like as a German solider.